A single person is dead, and seven others were injured in a Yemeni rebel attack on an airport in southern Saudi Arabia, according to reports.
" The terrorist attack led to martyring a Syrian national and injuring seven civilians," said Col. Turki al-Maliki, the representative of the Saudi-led coalition at war in Yemen against the rebel Houthis, as Gulf News reported.
" A terrorist attack by the Iranian-backed Houthi militia took place at Abha global airport, through which thousands of civilian passengers pass daily. A Syrian nationwide died and seven civilians were injured," the coalition's statement also stated, as Arab News reported.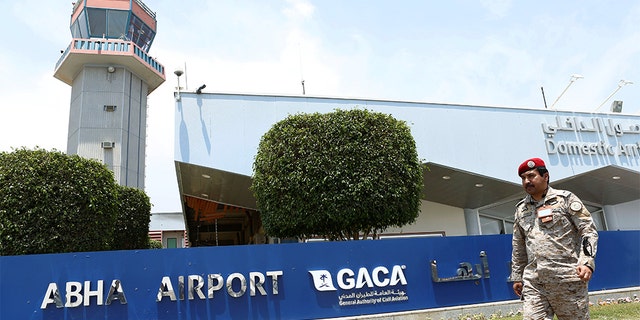 A gatekeeper walking past Saudi Arabia's Abha airport. (REUTERS/Faisal al Nasser).
AIR CANADA PILOT ORDERS 23 PIZZAS FOR PASSENGERS STUCK ON GROUNDED AIRPLANE
The airport in Abha was struck quickly after 9 p.m. regional time on Sunday.
The colonel did not say what kind of weapon was utilized in the attack.
CLICK ON THIS LINK TO GET THE FOX NEWS APP
A Houthi representative, Yahia al-Sarie, stated earlier Sunday the rebels had released drone attacks on Saudi airports in Abha and Jizan.
The attack comes less than 2 weeks after the airport in Abha was assaulted by a Houthi cruise missile, wounding 26 passengers inside.
The Associated Press contributed to this report.