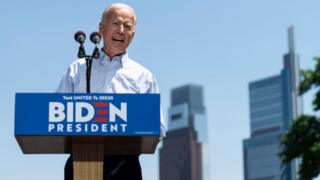 Democratic White Home enthusiastic Joe Biden's project has countered at President Donald Trump's attacks on him while he was in Japan over the weekend.
Throughout a press conference in Tokyo on Monday, Mr Trump said he concurred with North Korea when it called Mr Biden a "low IQ person".
The Biden project reacted that the president's remarks were "beneath the dignity of the workplace".
Mr Biden is the existing front-runner to face Mr Trump in next year's election.
While in Japan, Mr Trump disregarded the old Cold War axiom that United States politics stop at the water's edge.
The Republican president said on Twitter that he had "smiled" when North Korea's leader Kim Jong-un called Mr Biden "a low IQ individual, & even worse".
Throughout the trip, Mr Trump continued to direct gibes at the previous United States vice-president, whom he calls "Sleepy Joe".
Biden campaign supervisor Kate Bedingfield said in a statement on Tuesday: "To be on foreign soil, on Memorial Day, and to side consistently with a murderous dictator against a fellow American and previous vice president promotes itself."
Appearing on NBC's Meet the Press on Sunday, White House Press Secretary Sarah Sanders defended the president, saying that Mr Trump and Mr Kim "concur in their assessment of" Mr Biden.
She added: "Again, the president's focus in this process is the relationship he has and making certain we continue the path towards denuclearisation."
Mr Trump has actually frequently criticised Mr Biden since the previous vice-president revealed his candidateship, anticipating that he might become the eventual Democratic White Home nominee.
Mr Biden's public schedule has actually been reasonably light over the previous 2 weeks following its launch last month.
The candidate has concentrated on charity events rather than open campaign occasions, keeps in mind the Washington Post